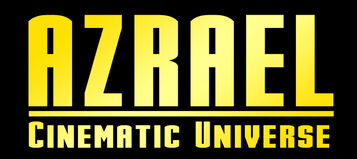 The Azrael Cinematic Universe (or Azrael CU) is a series of fan-movies that mainly focus on Gargamel's pet Azrael created by XxDinoFlamerxx. The series intended to be a follow up to the Smurfs film series. It was invented on October 2nd 2015.
Characters in the Universe
Featured
Azreal (the series' titular main protagonist)
Gargamel (Azrael's owner)
Papa (Leader of the smurfs)
Vanity
Smurfette
Clumsy
Grouchy/Positive
Hackus
Vexy
Brainy
Jokey
Patrick Winslow
Grace Winslow
Blue Winslow
Victor Doyle
Lynx
Mystique (Azrael's love interest)
Created by XxDinoFlamerxx
Clinton (the series' main antagonist)
Electrico (a supervillain)
Sanders Chuck (Azrael's african american owner)
Robus Hera (Azrael's sweet mother)
Regillus (Azrael's twin brother)
Lamina (A mythical comodo monster seen in Azrael's nightmares - the series' secondary antagonist)
The Movies
Origin Stories
Azrael's Adventures
Holiday Specials
Trivia
Smurfette was to be originally Azrael's love interest, but this was changed to Mystique having the role due to Smurfy decisions.
Ad blocker interference detected!
Wikia is a free-to-use site that makes money from advertising. We have a modified experience for viewers using ad blockers

Wikia is not accessible if you've made further modifications. Remove the custom ad blocker rule(s) and the page will load as expected.