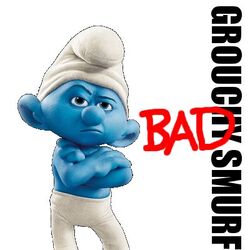 Bad is an album performed by Grouchy Smurf that is part of the EMPATH: The Luckiest Smurf story series. It is mostly a comedy album of songs created by Rapper and Orbit Smurf with Grouchy speaking instead of singing through most of the songs. A few Smurfs were brought in as backup singers, which at the end of the production Grouchy commented, "I hate backup singers."
The title track "Bad" is basically identical to the song by Michael Jackson featured on the album of the same name, except that the lyrics are completely different, and Grouchy speaks instead of sings the lyrics.
Ad blocker interference detected!
Wikia is a free-to-use site that makes money from advertising. We have a modified experience for viewers using ad blockers

Wikia is not accessible if you've made further modifications. Remove the custom ad blocker rule(s) and the page will load as expected.