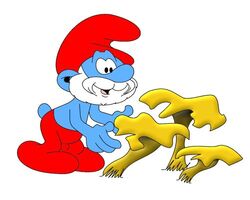 A chanterelle is a type of mushroom that grows in the Smurf forest only once a year, usually around the time of Papa Smurf's birthday, which serves as an indicator to his little Smurfs. It is considered Papa Smurf's favorite food. This is an element from the Smurf comic books that mostly appears in the EMPATH: The Luckiest Smurf story series. (In the cartoon show, according to the episode "The Fountain Of Smurf", Papa Smurf likes a fresh salad with cave mushrooms.)
Ad blocker interference detected!
Wikia is a free-to-use site that makes money from advertising. We have a modified experience for viewers using ad blockers

Wikia is not accessible if you've made further modifications. Remove the custom ad blocker rule(s) and the page will load as expected.