The character

His personalized logo
Fiddler Smurf
Also Known As
Fabian Smurf (birth name)
Schtroumpf Violoniste (Schtroumpf translation)
Gender
Male
Race
Smurf
Nationality
Smurf Village, unknown clan
Occupation
Musician
Alignment
Good
Marital Status
Presently single
Residence
Smurf Village
Universe
Empath: The Luckiest Smurf
Gallery
Name Translation of Fiddler Smurf
French
Schtroumpf Violoniste
Spanish
Pitufo Violinista
German
Geiger Schlumpf
Italian
Puffo Violinista
Dutch
Violist Smurf
Brazilian
Smurf Violinista

"Oh, how music smurfs the savage beast!"
Fabian "Fiddler" Smurf is a character is who is part of the EMPATH: The Luckiest Smurf story series.
Role
He is a Smurf who loves to play the fiddle and is usually seen playing with Twanger as well as with Piper as part of the Smurflanders. He speaks with an unidentifiable European accent.
Clothing
Fiddler wears a standard white Smurf hat and pants.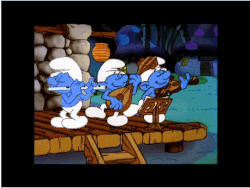 Ad blocker interference detected!
Wikia is a free-to-use site that makes money from advertising. We have a modified experience for viewers using ad blockers

Wikia is not accessible if you've made further modifications. Remove the custom ad blocker rule(s) and the page will load as expected.