"Flowerbell's Love Triangle" is a story that is part of the EMPATH: The Luckiest Smurf story series.
About The Story
From Vic George: I wanted to create a follow-up story to both "Papa's Wedding Day" and "Smurfette's Dancing Shoes" featuring two of the main characters from both stories together in one story. The original story idea was pitched in 2011. Some preliminary work was done on the story in 2015 and the bulk of it was completed in June 2016 in only a few days. Technically speaking, though, this isn't a "love triangle" that Flowerbell is caught in, as she is only in love with Papa Smurf and they're just dealing with an unwanted suitor.
Plot Summary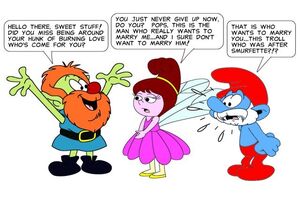 Flowerbell the woodnymph is back...and she isn't alone! Remember the imp who wanted to marry Smurfette so he can get his hands on the Treasure of the Trolls? Well, he's after a new fair maiden that he wants to marry...and he won't leave her alone until he does! Her only escape now is to marry Papa Smurf, but Papa Smurf doesn't trust her now that she's come back into his life to bother him again.

Notes
The original intended title for this story is "Papa's Second Wedding Day."
Flowerbell still recalls being invited to Woody and Laconia's wedding in "Smurfily Ever After", recalled in "A Wedding To Remember".
The unnamed imp from "Smurfette's Dancing Shoes" is referred to as Avarice in the story, due to his greedy nature.
This story features the first known use of Empath's "psionic blast".
Songs
The Story
Possible Voice Cast
Ad blocker interference detected!
Wikia is a free-to-use site that makes money from advertising. We have a modified experience for viewers using ad blockers

Wikia is not accessible if you've made further modifications. Remove the custom ad blocker rule(s) and the page will load as expected.