"I Will Be Here For You" is a song created and performed by Michael W. Smith.

Empath: The Luckiest Smurf stories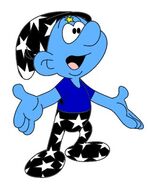 Empath Stories
It is part of the soundtrack for the story "Smurfed Behind: The Return", appearing as an inspiration song for Empath in his moment of doubting whether he will ever see Smurfette again. It is performed as a duet by Empath and Smurfette.