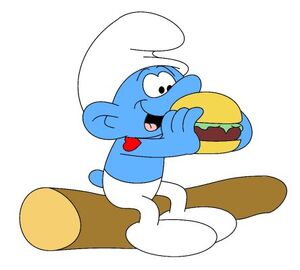 A smurfburger is a food item created by the Smurfs that appears in the EMPATH: The Luckiest Smurf story series. Despite its name, it is not a burger made of Smurfs; it is actually made from a ground-up mushroom and given various seasonings and spices to give it a taste similar to that of regular hamburgers. In Culinary Smurf's recipe, it is made up of oats and grains mixed with some vegetables and tomato sauce. Because Smurfs generally do not eat meat, they create substitute meat products from mushrooms. Mushroom burgers (the other name for smurfburgers) appear in the story "Polaris' Fantasy".
Smurfburger can also be used in the creation of tacos and burritos by adding chili powder as a seasoning.
Ad blocker interference detected!
Wikia is a free-to-use site that makes money from advertising. We have a modified experience for viewers using ad blockers

Wikia is not accessible if you've made further modifications. Remove the custom ad blocker rule(s) and the page will load as expected.