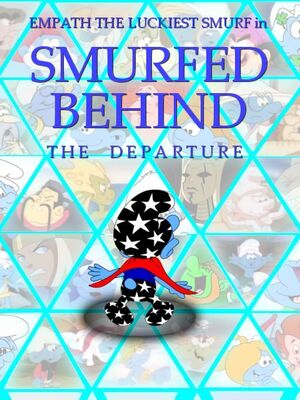 Smurfed Behind is a story saga that takes place in the Empath: The Luckiest Smurf series. It takes place during a period in Empath's life called The Lost Year, between his 155th and 156th birthdays.
The Stories
Empath comes home to the Smurf Village on his 155th birthday to find that his fellow Smurfs have all gone to the past by using the Key Of Chronos and were unable to return. With his friend Polaris Psyche, they set off on a journey around the world to find a way to bring their fellow Smurfs back home.
A series of stories adapted from the Season 9 episodes of the Smurfs cartoon show, featuring the adventures of the Smurfs as they travel through time.
"Smurfs Of The Stone Age" (covers "The Smurfs That Time Forgot", "Lost In The Ages", and "Cave Smurfs")
"Smurf Trek Voyagers" (crossover with Star Trek: The Next Generation)
Smurfed Behind: The Journey (pending)
A series of stories that take place between The Departure and The Return as Empath and Polaris encounter various dangers and threats along their journey around the world.
"Smurfing In Heaven"
"Weekend At Mezzek's"
"By Brother Betrayed"
"The Other Side Of The Mirror"
"Modern Smurfing"
"Starhearts"
"One Of The Smurfing"
Smurfed Behind: The Return (pending)
Empath comes to the end of the journey and finally discovers the way to bring his fellow Smurfs back home...but will he survive long enough to accomplish this task?
Notes
The title of the series is based on the Tim LaHaye and Jerry B. Jenkins fictional book series LEFT BEHIND, but other than the plot of having most of the Smurf disappearing and Empath and Polaris being the only ones left behind, it shares no further commonality with the book series.
The cover for "Smurfed Behind: The Departure" is based on one of the cover designs for DC Comics' Infinite Crisis issue 2, with Power Girl staring at the various parts of fragmented reality.
Ad blocker interference detected!
Wikia is a free-to-use site that makes money from advertising. We have a modified experience for viewers using ad blockers

Wikia is not accessible if you've made further modifications. Remove the custom ad blocker rule(s) and the page will load as expected.