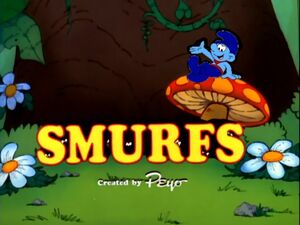 Season 10 is part of the Expanded Animated Universe created by Esquilo30, and features a collaboration of episode listings from multiple Wiki Users.
Revision Status: CLOSED
Series Information
There is an official lead-up episode created by Vic George called, "The Return Home," which entails the safe return of the time-travelling fifteen Smurfs, thus normalizing the storyline back to its originally intended state.
Overview
Containing 60 episodes, this marks the beginning of a great and humorous adventure by telling the story of Joey McCormick who appears in the first episode called, "A New Smurf, A New Adventure," and how he came to be cursed as a Smurf.
This season also introduces new characters like Carefree and Fooly, as well as the return of Marina the Mermaid and the Pussywillow Pixies. Other new characters include Goblins, Gnomes, and Woodsprites like Hethera, Princess Glacia, and Karma - all of which are created and publicized by Numbuh 404. They often go hand-in-hand with the returning one-shot characters from the later seasons of the cartoon show. Some are brought up with simple goals and personalities, but several will reveal a dynamic change as they make multiple appearances.
There is also the return of several other characters with credit due to Numbuh 404, who has created several episode listings, which will bring new light to Sir Johan and Peewit, as well as a few rarely-seen characters like Mystico and Ripple. There is an introduction episode specifically for Moxette known as "Peewit's Smurfy Creation."
Season Specials
A short fanfiction special occurs with focus on Mystico where he is freed for the last time and encounters a unique female Goblin named Vira. He tries to win her heart and is constantly rejected, leading him to take drastic measures to persuade her to be his mate. This story, The Goblin's Admiration, sets the stage for the entrance of a new character.
Later in the series, We Smurf You A Smurf Smurfy Christmas brings together a multitude of known characters from both the fanon and original cartoon alike in a wild adventure where a group of various individuals work as a team to save Christmas from the heartless witch, Chlorhydris. Celebrate the holidays with this dramatic conflict and enjoy the resolution as hearts are warmed and friendships thrive.
To welcome Spring's arrival, A Smurfy Valentine's Day involves the Smurfs and a handful of other characters celebrating the Day of Love, known as Valentine's Day. Unfortunately, Chlorhydris casts a spell to remove love from the world entirely, and it is only thanks to her disloyal Piximps that the Smurfs are able to counteract the effects.
So far there is one movie special, which directs attention to the humans once seen throughout the original cartoon show. The Reluctant Dark Knight features over twenty characters - majority from the show - and casts a fierce shadow on Johan when he is turned into a ruthless villain by Gargamel. This Season Finale is sure to intrigue and delight audience members with a thrilling plot, powerful action scenes, and hints towards future romance. Don't miss it!
Episode Listings
Season Finale: The Reluctant Dark Knight (Story One)
Up Next
Trivia
This series was officially created by Esquilo30 on October 15th, 2011.
The main contributors to this Season are Esquilo30, who created a total of 49 episodes, and Numbuh 404, who created a total of 10 episodes and the Season Finale (Story One).
"Knight of the Clover Bandit" was initially put in by B1K3 for their Sealed Away Smurfs series, which no longer exists. It is considered the "lost episode" of this Season.
Esquilo30 was present until after October 31st, 2013, so the series was continued solo by Numbuh 404 and currently awaits Esquilo30's return to be officially concluded.
After calibrating the in-universal timeline pertaining to the LD Storyline, "The Gnome Princess" and "Moxette's Crazy, Stupid Love" were switched. This was a means of assuring readers of one less continuity error when following along.
Ad blocker interference detected!
Wikia is a free-to-use site that makes money from advertising. We have a modified experience for viewers using ad blockers

Wikia is not accessible if you've made further modifications. Remove the custom ad blocker rule(s) and the page will load as expected.