"But now I stand alone with my pride, fighting back the tears I have never let myself cry,..."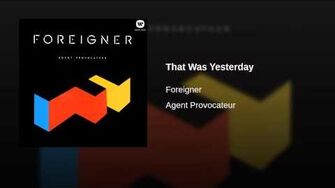 "That Was Yesterday" is a song created and performed by Foreigner that appeared on their 1984 album Agent Provocateur.

Empath: The Luckiest Smurf stories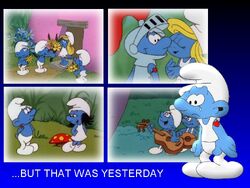 It is part of the soundtrack for the story "Empath's Wedding", played more as a quiet orchestral instrumental for scenes when Hefty is reflecting upon what he could have had with Smurfette.
Ad blocker interference detected!
Wikia is a free-to-use site that makes money from advertising. We have a modified experience for viewers using ad blockers

Wikia is not accessible if you've made further modifications. Remove the custom ad blocker rule(s) and the page will load as expected.