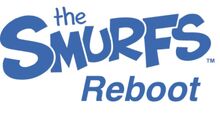 The Smurfs: Reboot is a reboot of the original smurfs series. The show uses the same animation of the 2D section of The Legend of Smurfy Hollow, and some character reprise their roles from the 2011 movie.
Series Sypnopsis
The series follows the Smurfs on all-new adventures, featuring a new smurf named Sapphire, who was raised by legendary wizard, Josiack.
Cast of Characters
Main Smurfs
Papa Smurf- Jack Angel
Sapphire Smurf- Jessica DiCicco
Smurfette- Melissa Sturm
Brainy Smurf- Fred Armisen
Vanity Smurf- John Oliver
Clumsy Smurf- Jack McBrayer
Hefty Smurf- Gary Basaraba
Gutsy Smurf- Alan Cumming
Grouchy Smurf- George Lopez
Handy Smurf- Jeff Foxworthy
Season 2 debuts
Traveler Smurf- Jim Carrey
Marmalade Smurfette- Pamela Adlon
Serenity Smurfling- Ariel Winter
Nat Smurfling- Charlie Adler
Slouchy Smurfling- Anton Yelchin
Snappy Smurfling- TBA
Minor Smurfs
Poet Smurf- Frank Welker
Painter Smurf- Tom Kenny
Jokey Smurf- Paul Reubens
Greedy Smurf- Kenan Thompson
Lazy Smurf- Yuri Lowenthal
Tailor Smurf- Randy Powell
Affectionate Smurf- Rob Paulson
Panicky Smurf- Adam Wylie
Narrator Smurf- Tom Kane
Clueless Smurf- Shaun White
Other Supporting Characters
Seleste- Jenny Slate
Elodie- Fiona Bishop
Joann- Camron Boyce
Peewit- Cam Clarke
Josiak- Jim Cummings
Villains
Gargamel- Hank Azaria
Azrael- Frank Welker
Morcabeth- Corey Burton
Stories
Season 1
Rise of the Sapphire Smurf- Human raised Sapphire Smurfetteling travels to find her parents, but tumbles across the Smurf Village. (Still being written)
An Old Friend in Fins- TBA
Clumsy's Assistant- TBA
Hug-a-Smurf- TBA
More to come...
Trivia
This show uses the same animation as the 2D segment of The Legend of Smurfy Hollow.
Some characters reprise their roles form the 2011 movie.
Sapphire and Seleste are two reboots of Sassette and Marina the mermaid.
The stories are written in script form.
Ad blocker interference detected!
Wikia is a free-to-use site that makes money from advertising. We have a modified experience for viewers using ad blockers

Wikia is not accessible if you've made further modifications. Remove the custom ad blocker rule(s) and the page will load as expected.